Fam Cave!
Date: March 31, 2023
Move over Man Cave it's time for the Fam Cave!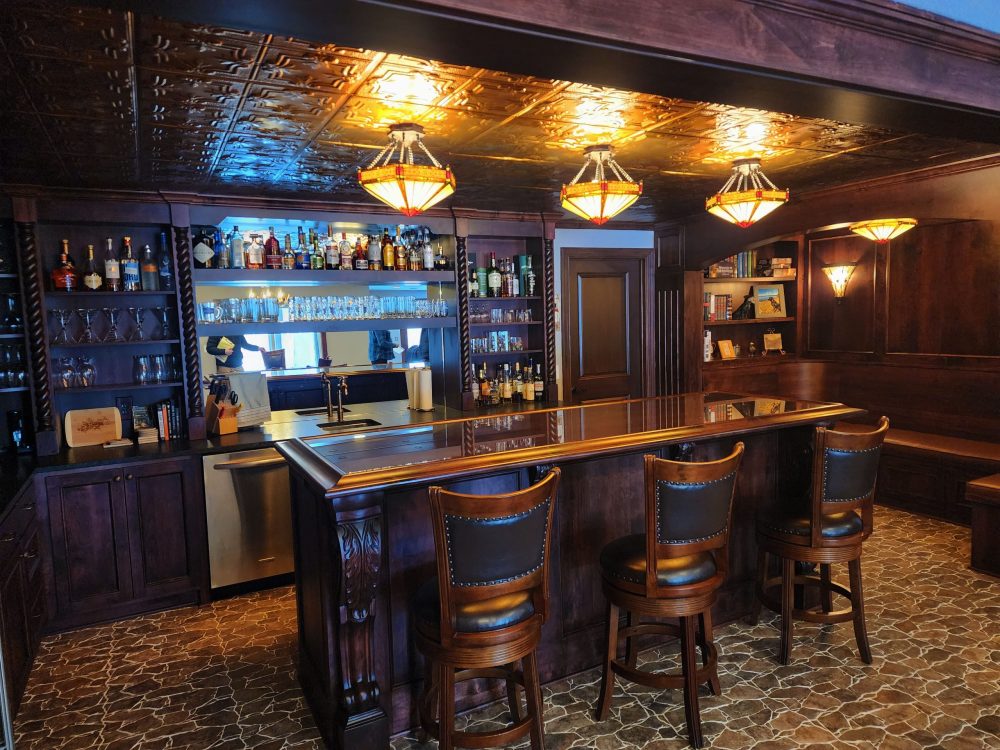 Grab a seat!
I wanted to give you a sneak peak at the basement portion of a recently finished multi-level remodeling project that you will undoubtedly be seeing as one of our highlighted projects down the road. This family was gracious enough to give us the opportunity to take their cluttered basement entertaining area and upgrade it to the astonishingly crafted gathering and gaming area it is today!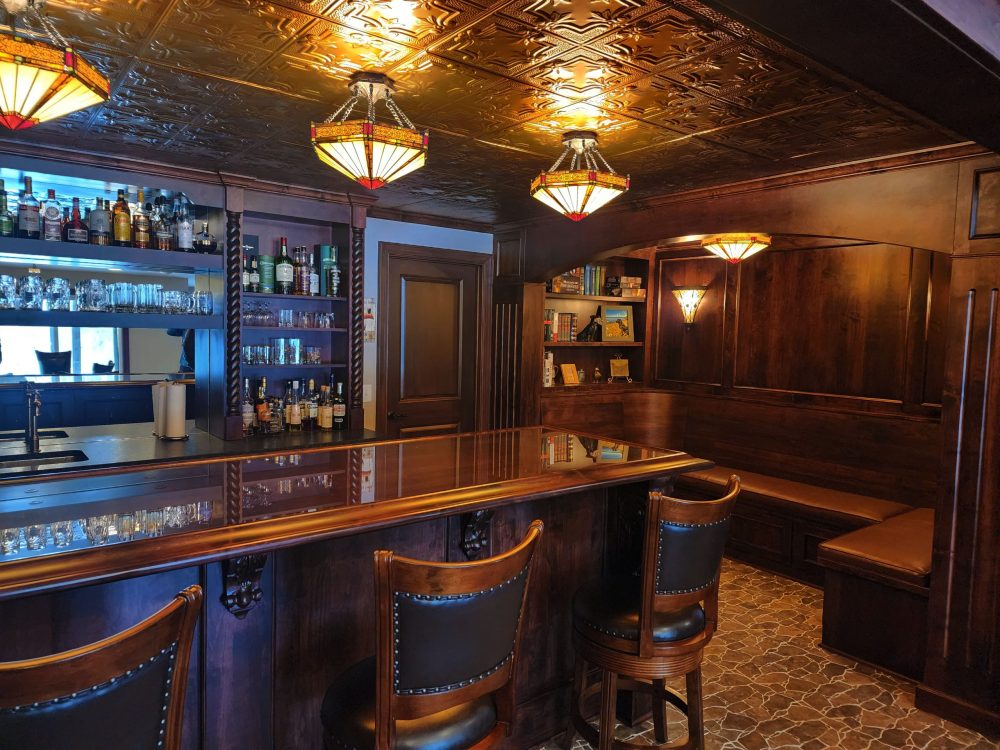 What'll it be for you?
Kudos to the homeowners, designers, selections coordinator and of course the skilled carpenters and vendors that put all of this together. From the copper penny tin ceiling, to the stained glass light fixtures, to the custom crafted and stained woodwork and all the way down to the stone flooring, everything comes together so well and truly makes it hard to believe you are in a residential basement.

Come on over!
There's plenty of space for friends and family at the island bar top but what about heading over to this cozy nook to enjoy a morning coffee while turning some pages of your favorite book or perhaps it is time to break out the families favorite board game and compete on top of the custom wood table that is still in the making (more to see soon). This is another wonderful addition to the layout of this space that offers so much more to this family and their guests to enjoy!

Game on!
It is clear to see that this custom crafted space is not just for the adults! These kids take their gaming seriously and what better way to take that experience up another level than with this gaming table! Although we did not custom build this table for the new entertaining area, it is incredible to see how well it fits in with its new surroundings. Just more proof that this newly upgraded basement will bring this family and their friends together for many years to come.

Plenty more to see!
If this post has got you thinking about what you could do with your basement area or any other portion of your home for a remodel, there is plenty more to see in our gallery to help inspire your creativity. Take a stroll through the gallery and give us a call when you are ready to start Handcrafting Your Vision!
Stay Happy & Stay Healthy!