Procrastination, Painting and Peeling Good!
Date: May 24, 2022
Hickory, dickory, dock, your up against the clock, the paint is here, the wallpaper too, hickory, dickory, dock.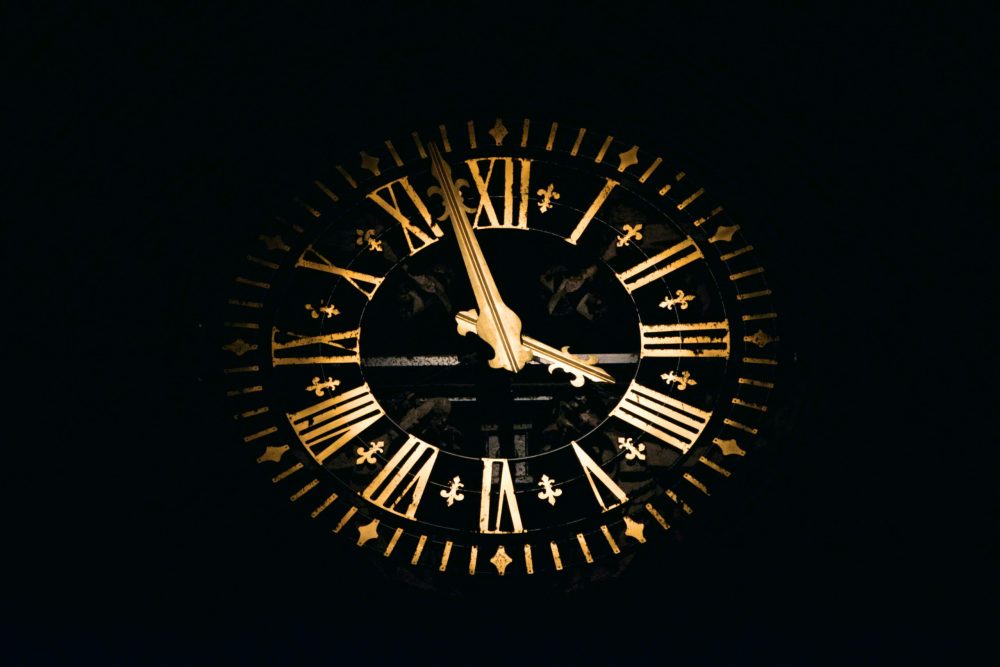 Nursery rhymes for nursery times!
When it comes to home updates, repairs and sometimes even some chores, I typically like to rely on the expertise of a professional to handle it. This decision isn't out of laziness but more so the amount of times that I have taken on a task that I thought I could easily do only to find that it is nowhere near as easy as I had anticipated. This realization typically leaves me with a project that I have started and got rather far into the process on, only to feel defeated and leaving it untouched for an extended period of time (sometimes years, sorry Mrs. W). 
With that said, I was not looking forward to the newly needed request to update our guest bedroom into a nursery.
First problem with this request is it involves painting, of which I try to avoid doing at all, ever.
Second problem is it involves wallpaper removal (of which I still have traumatic flashbacks of from the bathroom update I did years ago).
Lastly, there's going to be some new peel and stick wallpaper to be installed, of which I have never done before.
How many times have you said: "I'll do it as soon as I get a round tuit". Now's your chance, now you can do it, now, at last, you've got a round tuit!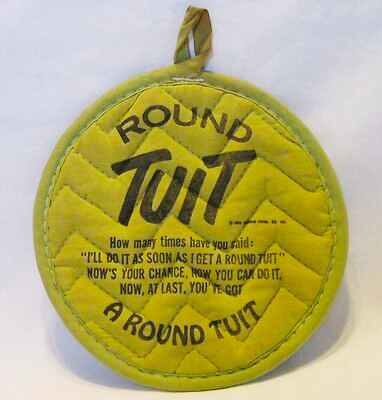 My Great Grandmother had one of these hot pads in her kitchen. I didn't really get it as a child but I definitely get it now as an adult. Given the specs of what was to be done, I procrastinated and I procrastinated hard. As my wife continues her day-to-day awesomeness growing our child, I continue to try and find ways or reasons as to why I cannot do the nursery today and to reassure her that I will get it done in time, I promise.
Now, my back is against the wall, my time is nearly up, the boxes of items to go into the nursery have started to accumulate and I am clearly looking at my own "round tuit".  The paint is purchased and the wallpaper is on the way to arrive next day.
One, two, three o'clock, four o'clock rock, five, six, seven o'clock, eight o'clock rock, nine, ten, eleven o'clock, twelve o'clock… seriously…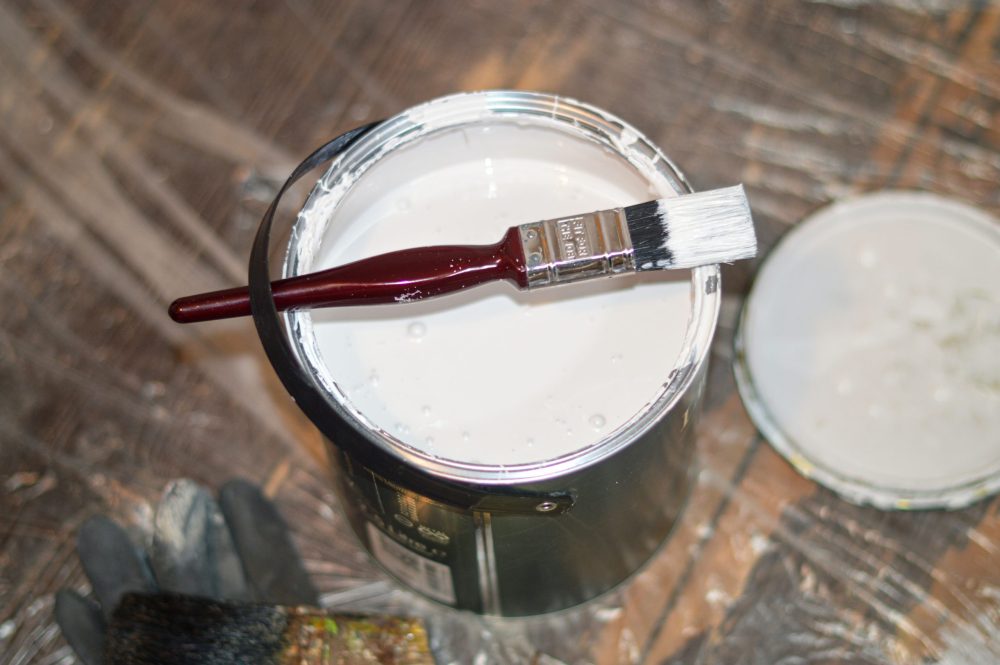 So here we go, rock'n gold oldies on the radio and paint brushes in hand, I went to work. On the plus side, we did spend a little extra on the paint we chose which provided a substantial first coat so in nearly the entire room, only one coat was needed. 
Then it was on to the oh so fun blue tape application and trim painting… yay.
Fast forward a couple of hours (okay, okay, several hours) and all the paint is done, only one wall remains untouched and awaits its new "feature wall" status and to be covered in the peel and stick wallpaper that will be arriving the next day.
Rise and shine, you have a delivery at your front door. We gather the rolls of paper and bring them into the transforming guest bedroom/nursery.
Let's double check those measurements and make sure we have enough wallpaper. Sure enough we do.
Let's huddle up and convince ourselves that we can do this…
Okay, let's reload that YouTube video on Peel and Stick Wallpaper 😉
Peeling Good!
Shout out to HS Design Studio for the informative video tutorial!
My intimidation of doing the wallpaper portion of the project was eased slightly by the fact that we are going to be using peel and stick wallpaper. I was still very speculative that I/we could pull this off but thanks to the video walkthrough, we were able to make things happen and in a somewhat easy process. I however, was nowhere near as graceful in the application process as the video shows and there were certainly several moments throughout the process that didn't go as easy as I had hoped for (insert variety of not-so-nursery-friendly words here).
Thankfully for people like myself, there are videos like this out there from the professionals to walk you through tasks you've never tried before. Thankfully someone also decided to make peel and stick wallpaper as I cannot imagine an easier way to do wallpaper. It certainly gave me the opportunity to get things lined up as best I could and with a smaller potential to cause damage to the limited amount of material we had.
I would also recommend some additional hands to help you if you are lucky enough to have someone nearby and willing to do so. Although it is not called for in the video, it certainly was handy (pun intended) to have the help guiding the wallpaper into position and the cheerful thank you's and applause along the way didn't hurt either.
If you are like me and prefer to leave items like this to the pros, call us and we will help you! We've got the expert carpenters and teams of other skilled craftspeople we partner with to help you with any project small or large or a project that was small but you accidentally made it large (again, if you're like me).
Nursery ready, now we wait for the baby!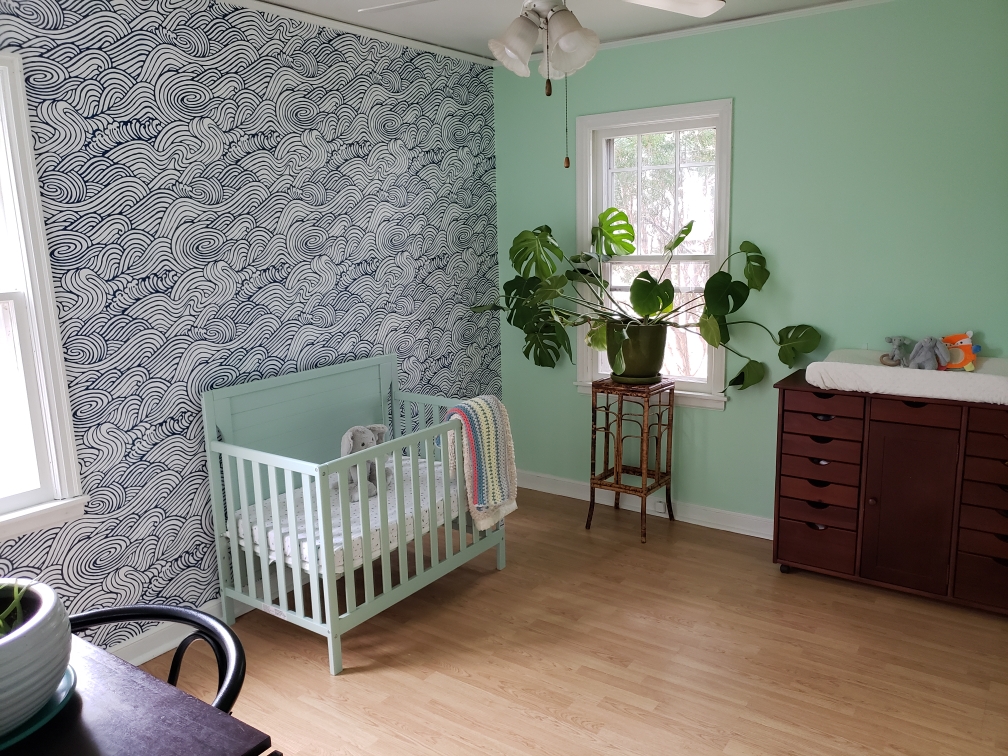 We give the peel and stick wallpaper option a BIG THUMBS UP!
Wishing you all the best as this Spring moves into Summer!
Stay Happy and Stay Healthy!